Kayak Safety Training @ Orcas Island
Bruised, sore, exhausted, fueled up on Orcas Island food and now spewing with kayak safety & rescue wisdom!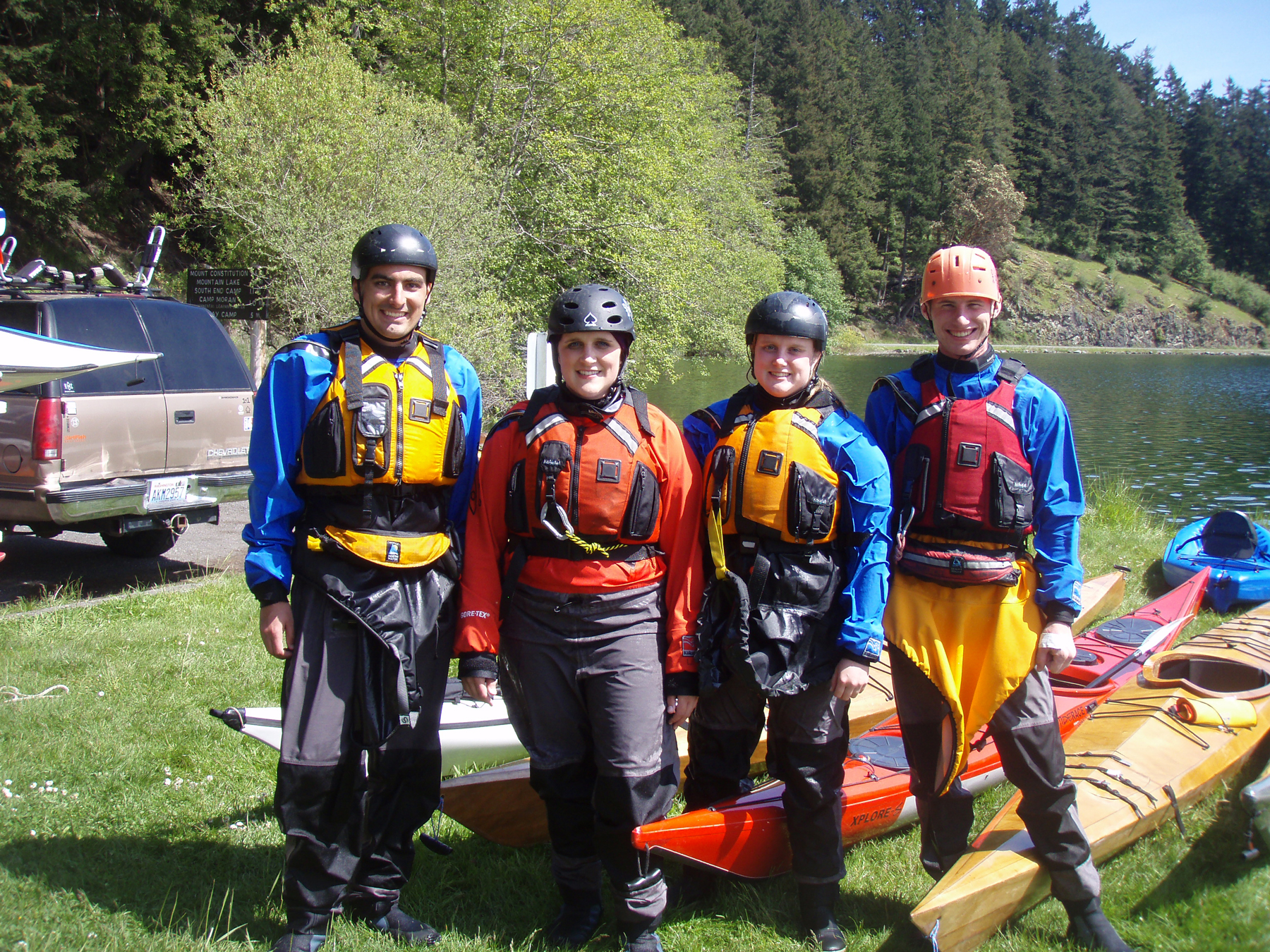 Cody, Jarvis, Emily and myself (Amy) took the course "Foundation Safety & Rescue Training" with Body Boat Blade out of Eastsound, Orcas Island. The course is described as: "a large "tool box" of practical rescue skills that can be used on flat water or in advanced conditions. With cutting edge knowledge from coaches with the experience to know what does and doesn't work on the water, you will learn to solve problems that arise during rescues, and which safety products are effective. Risk assessment as a method to avoid needing to do rescues will also be emphasized throughout the course. This class is highly recommended for anyone leading groups or teaching in clubs."
We took advantage of great Spring weather and had the opportunity to spend two full days training. Leon, Seth and Shawna of Body Boat Blade were amazing instructions; the energy of the class was terrific!
The first day we evaluated the risk assessment process; this tool will be great to bring to the Crew #115 table. We participated in assisted rescues, speed launches, goofing around, equipment overview and leadership styles. We evaluated safety & rescue processes such as STEV (also known as Steve) which stands for Self, Team Victim & Equipment. Strangely enough, this is the order in which you should evaluate an emergency situation in kayaking.
CLAP stands for Communciation, Line of Sight, Avoidance and Position of Maximum Relevance, all terms we plan to add to our kayak training program.
On Sunday, we worked on self rescues, real life scenarios as well as working with "other" water sports such as river kayaks, standup paddle boards, canoes, sit-on-top kayaks and speed racing kayaks. The intent of other water sports was to familiarize ourselves with anyone we could potentially come across, even while sea kayaking.
In the coming weeks, we will be putting together a Crew #115 Safety Kayak Training Program. Body Boat Blade was kind enough to offer an evaluation of the training program we come up with for Crew #115.
I must say, I am pretty stoked about the training and can't wait to teach what I learned!